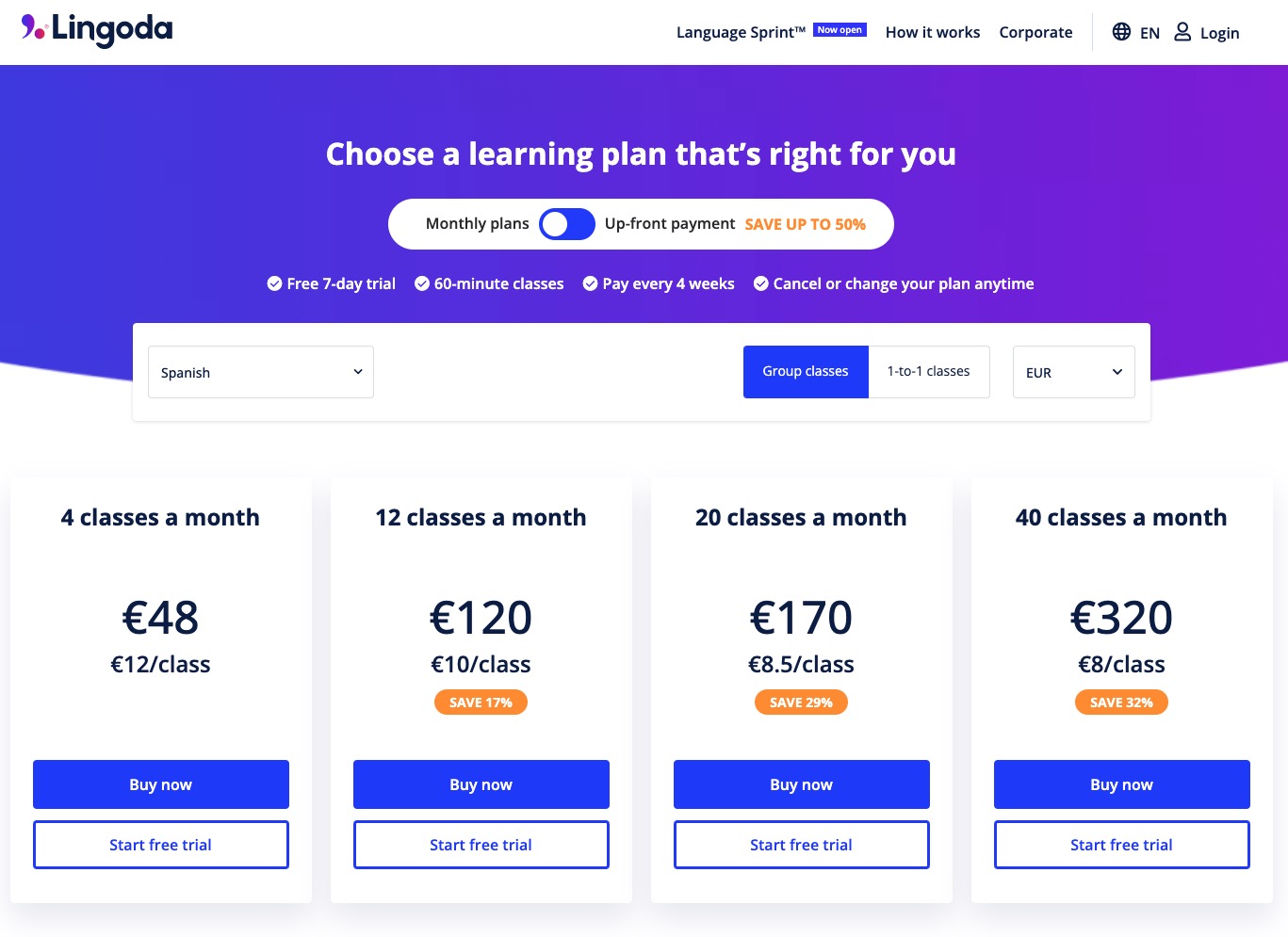 Lingoda is not exactly a cheap platform, it makes sense to learn more before making a commitment. In this blog post, we will take a closer look at Lingoda and its language learning courses.
What is Lingoda?
Lingoda is an online language learning platform that focuses on four languages: English, French, German, and Spanish (they also offer "Business English" as a separate fifth language). You can learn one-on-one with a teacher, in a group class, or just by watching video lessons.
If you choose the classes (1-on-1 or group), you will have to buy a class "bundle": 4 classes a month, 12, 20, or 40.
It's on the premium end of language learning, especially compared to something like Duolingo. But it does offer some great features, like the ability to set your own learning goals, get personal feedback from a teacher, and take classes 24/7.
If you are someone who learns better with a tutor, or if you are a group learner, it's a pretty good option.
Languages on Lingoda
The languages you can learn on Lingoda are:
English
Business English
French
German
Spanish
How does Lingoda work?
There are three ways you can learn with Lingoda:
One-on-one classes
You can learn one-on-one with a teacher. This is the most expensive option, but it also gives you the most personal attention and flexibility.
Group classes
Group classes are a bit cheaper than one-on-one classes, and they offer more of a social aspect. You can join a group of three to five students learning the same language, and chat and learn together.
Videos lessons
Finally, you can also learn by watching video lessons. This is the cheapest option, but it also requires the most self-discipline. You need to be motivated to watch the videos and complete the exercises without any help or feedback from a teacher.
Key Lingoda features:
Some of the key features that Lingoda offers are:
The ability to set your own learning goals
This is a great feature if you want more control over your learning. You can choose what you want to learn and focus on specific areas that you need help with.
Personal feedback from a teacher
Lingoda teachers will give you personal feedback on your progress, which can be really helpful in keeping you motivated and on track.
Classes 24/7
Unlike some language learning platforms, Lingoda offers classes 24/7. This means you can take classes at any time of the day or night that works for you.
Accent training
Lingoda pooled material from 1600 teachers so that you can hear different accents in the language you are practicing.
Placement test
Lingoda offers a five-minute placement test (using questionnaire form) that allows you to know your level before committing to a course.
How much does Lingoda cost?
Prices for classes start at $12 per hour (or €12 if you are based in Europe), but drop as you book more lessons at once.
Prices vary depending on which language and which format you choose. For example, a one-month group course (12 lessons) in German costs €138, but if you want to learn Business English it will cost you €120.
Final thoughts on Lingoda
Lingoda is like an on-demand language center. It's pricey but it has a great quality-price ratio, and you can pick many different plans depending on your budget and your availability.
It would have been great if Lingoda was available for more languages, but it makes sense that they would want to master a few languages before expanding.
All in all, it's one of the better learning platforms out there.