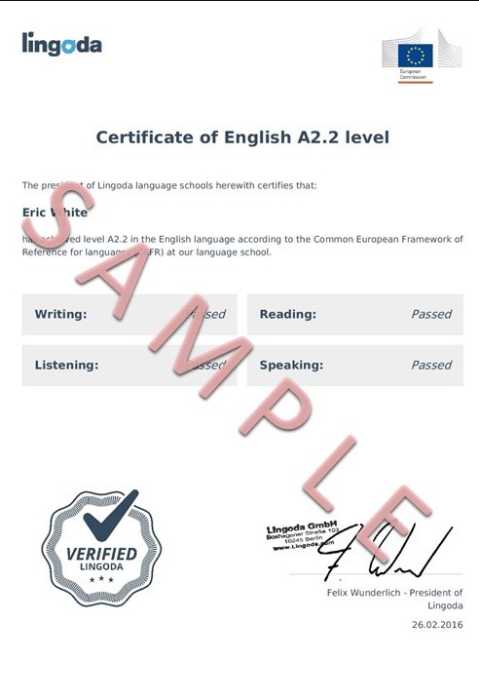 Whether you're thinking about joining Lingoda or you're already a customer, it is important to learn more about their certificates and how to get them. We answer your questions.
How does Lingoda work?
Lingoda is an online language school that offers courses in German, English, Spanish, and French. Students can choose to study either one-on-one with a tutor or in small groups. It is also possible to enroll in video courses.
Lingoda is perhaps most well-known for their "sprints" which are two-month challenges during which students commit to taking a certain number of classes per week in order to complete the challenge. Students who successfully attend each class and pass the exams can receive up to 100% refund on their classes.
What is a Lingoda Certificate?
Each learning level at Lingoda is made up of 50 classes, and when you complete each level you get a certificate.
Lingoda uses the Common European Framework of Reference for Languages (CEFR), which is the most famous language fluency scale. If you've heard of "B1", "A2", and "C1", those are all levels, with "A1" being the lowest, and "C1" being the most advanced.
What does each CEFR level certificate mean?
A1: This level means that you can communicate in very basic ways, for example, you can introduce yourself, ask and answer simple questions, and use simple phrases.
A2: At this level, you can communicate more fluently and handle short conversations. You can also talk about your daily routine, interests, and experiences.
B1: Once you reach the B1 level, you can communicate confidently on a range of topics. You can also understand the main points of straightforward arguments on television and radio.
B2: By the time you reach B2, you can communicate with native speakers without much effort. You can also understand lectures and follow complex arguments.
C1: This is the highest level of the CEFR, and it means that you can express yourself fluently and spontaneously without any obvious effort. You can also understand a wide range of demanding, longer texts, and recognize implicit meaning.
C2: The C2 level is the "mastery" level, and it means that you can use the language for almost all situations. You are able to produce clear, well-structured, detailed text on complex subjects, and interact fluently and spontaneously without strain.
How to get a Lingoda Certificate?
To get a Lingoda certificate, you have to complete 90% of a learning level, which each are made up of 50 classes.
Do Lingoda certificates require an exam?
Short answer: they don't. You don't have to pass any exams to get your certificate – you only have to complete 90% of the classes of each learning level.
What does a Lingoda certificate actually look like?
Here is an example:
As you can see, it has the European Commission logo, the mention "passed" next to the four key fluency categories (writing, reading, listening, and speaking), as well as the stamp and signature of the CEO of Lingoda.
Is a Lingoda Certificate Useful?
While a certificate from Lingoda is not an accredited degree, it can be useful in a number of ways.
For example, if you're looking for a job, many employers will view your Lingoda certificate as evidence of your language skills.
In addition, if you're planning to take a formal exam such as the TestDaF or the Goethe-Institut exams, a Lingoda certificate can help you prepare and track your progress.
Finally, a Lingoda certificate can simply be a way to motivate yourself to learn a new language or improve your skills.
Below we'll go into detail about each possible use of the certificate.
What can you use a Lingoda certificate for?
1. Add it to your resume
Many employers will view your Lingoda certificate as evidence of your language skills, which can make you a more competitive candidate.
2. Show it during an academic application
If you're planning to study abroad or stay in your home country but enroll in language-specific majors, the Lingoda certificate is a great way to prove your language level.
3. Add it to your Linkedin
You can mention your language learning level (for example "B2" in French), and be able to back it up with a certificate.
4. Use it for immigration purposes
According to Lingoda, their certificates "are accepted by employers, academic institutions and even immigration services"
5. Set language learning goals with yourself
It might sound silly but having clear goals is a great way to improve your fluency in a language. For example, you can say that your goal is to go from A1 to B1 within a year. Wouldn't it be nice if you had a certificate to go with it?