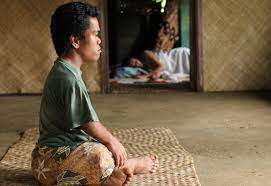 This review is part of our movie recommendation section, which shines a light on stories about endangered languages.
The Orator / O Le Tulafale is a 2011 New Zealand film directed by Tusi Tamasese. It's the first feature film in the Samoan language.
The movie was inspired by the life of orator and chieftainess Fa'amu Pala'amo, who lived in Samoa in the early 1900s.
The Orator tells the story of Vaiasu'u (Fa'amu Pala'amo), a man of few words who is chosen by his village to be their orator, or spokesperson. Vaiasu'u is reluctant to take on the role, but he eventually agrees, and he quickly proves to be a powerful speaker. However, as Vaiasu'u gains more power, he starts to abuse it, and his village starts to turn on him.
The Orator is a beautiful and powerful film that showcases the Samoa culture and language. It's also a cautionary tale about the dangers of abusing power. The movie is definitely worth watching, and it's sure to leave a lasting impression on viewers.